Smartphone Tool Improves Technician Efficiency
It's a proven fact that technicians that are pulled away from the vehicle they are working on to seek service or repair information creates a work stoppage for the period of time that the technician spends at a computer. In other words, when the tech puts his or her tools down, the work stops.
Imagine if you will, a smartphone app that can provide the technician with instant repair or service procedures…without ever leaving the vehicle. Enter an artificial intelligence mobile application called CYTK.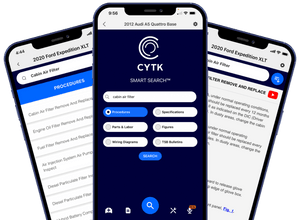 This is an app specifically designed for the automotive repair and maintenance industry which instantly provides service procedures, wiring diagrams, quick reference guides, YouTube videos, recall information, illustrations, and the ability to scan a vehicle's VIN.
The app enables the technician to use machine learning and natural language understanding to perform their work with a higher degree of accuracy by assessing manufacturer information on the vehicle they are getting ready to repair or service.
The app is available for download on either iPhone or Android and was originally developed for dealers technicians. It's newly available to the aftermarket. Once the VIN is entered, a menu will appear (as seen below), which enables the technician to choose what type of information he or she requires.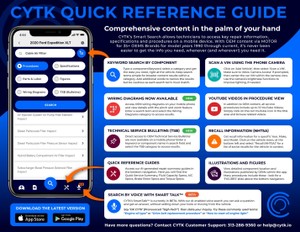 Currently, about 40% of CYTK subscribers are mobile techs while the remaining percentage is split between dealerships and independent repair facilities.
Let's say a vehicle comes in for a fluid change. The techs scan the VIN and choose specifications and instantly sees what type and how much fluid is needed.
The app is even capable of "search by voice" to bring up information needed by the tech. To date, 35+ brands contribute data to te app which is purchased by Motor, a subsidiary of Hearst Publishing. CYTK then acquires the information from Motor.
A survey shows that younger technicians embrace this technology immediately, while older ones are reluctant, but eventually come around to the new app. CYTK is available for a 30-day free trial after which the subscription rate is $60/month for independent shops and $179/month for dealerships.
CYTK will also prove valuable as we see more electric vehicles come in for service or repair.
The developer of this app believes it will be especially helpful to mom-and-pop shops that may have limited resources or young techs that may not yet have the knowledge gained from years of experience.
Visit cytk.io for more information about the app.