If you have ever said to yourself, "someday I'm gonna buy one of those", I wouldn't wait a whole lot longer. I'm referring to Dodge muscle cars which according to Dodge CEO Tim Kuniskis is nearing the end of production as the Stellantis group member transitions to electrification by the end of this year.
This "Last Call" announcement is for the Hellcat era Dodge Challenger and Charger which have been dominating street and track racing for some time with its Hemi powered versions of both the Challenger and Charger models.
Kuniskis explains this Last Call" will be a run of seven special editions with the Challenger SRT Demon 107 which was launched in March of 2023. To say that the Dodge muscle era is going out with a roar is an understatement since the 107 will deliver a whopping 1,025 horsepower from a 6.2 liter Supercharged V8. This is the fastest production ever built which can go from 0 to 60 mph in 1.66 seconds, this is even faster than a Tesla electric supercar!
Gear changes are still handled by the eight-speed automatic 850RE TorqueFlite  and a new and improved transmission brake brings configurable launch settings. The Demon 170 rolls on Mickey Thompson ET Street R tires, size 245/55R-18 in front and a gigantic 315/50R-17 bringing up the rear.
Every special edition car built will have a plaque installed under the hood like the one seen below.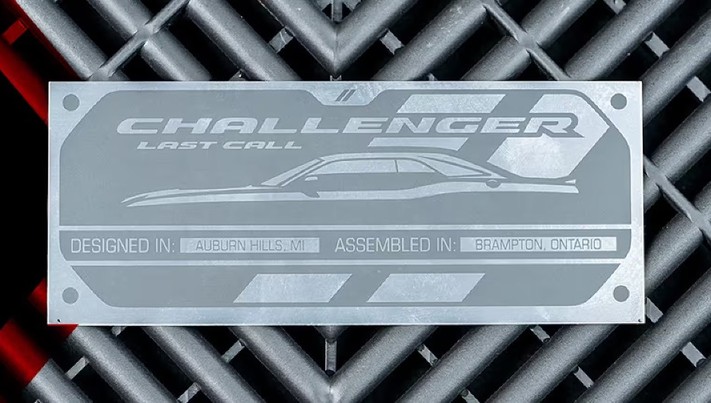 As Kuniskis states, "these cars are not the ones people need, they're the cars people want"!
Because the engine can produce 945 pound-feet of torque, the driveshaft and differential had to be made with aerospace grade materials. According to Kuniskis, the car will run the quarter mile in just under nine seconds and can hit speeds of over 150 mph. Horsepower and speed will depend on how much ethanol is in the fuel.
It gets only 13 miles per gallon in the city and 21 on the highway, not that anyone buying this car will care about that. This type of performance does not come cheap, the going price with only basic options is $96,666 with front passenger and back seat available for a dollar each. According to Kuniskis, Dodge will produce only 3,300 of them and it's not even certain the number will be reached based on parts shortages.
So, now that you know when someday is and you have been one of those individuals that said "someday I'm gonna buy a Scat Pack, step on the gas and get it done before it's too late.