Ford Motor Company is recalling 252,936 2020 to 2022 Explorers with 10R80 transmissions and all engines as well as hybrid models for the possible danger of a rollaway threat. The recall includes Explorers, Explorer Hybrids, Police Interceptors and Explorer Plug-In Hybrids.
The defect that causes the threat is caused by a rear axle horizontal mounting bolt the can fracture, see photo below, during acceleration.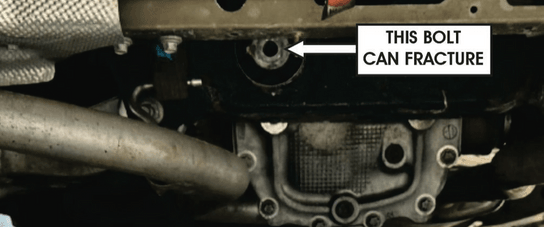 When the bolt breaks, vehicle owners have complained about severe noise described as a loud grinding, binding or clunk. When the bolt breaks, the driveshaft can become disconnected, resulting in the vehicle not holding when in park range.
Ford has received 235 warranty claims to date and is being investigated by the National Highway Traffic Safety Administration. Vehicle owners of the affected vehicles will be notified by mail, Ford urges owners of the affected vehicles to immediately stop driving it and get to an authorized dealer to free of charge repairs.
Ford has also offered to install a software update that automatically applies the parking brake whenever the vehicle shifter in placed in the park position. However, owners have complained of operational issues of various sorts after the software update.
When the vehicle is brought into a Ford dealer for this recall, the dealer will replace the rear subframe bushing and install a new bolt as seen in the photo below. This recall also includes replacing the rear differential cover which may also have a defect on some models.