Catalytic Converter Thefts At An All time High
Catalytic converter thefts dominated headlines in 2020, with police departments and auto insurers across the country reporting a record number of stolen parts—that trend didn't slow in 2021.
According to a recent analysis by BeenVerified, the number of catalytic converter thefts in 2021 surpassed last year's record numbers in the first five months of the year. Looking at the number of reported insured thefts in 2019 and 2020 from the National Insurance Crime Bureau (NICB), BeenVerified analyzed Google searches at the state and national level to find that an average of one theft is reported for every ten searches on "catalytic converter theft" during the same time period.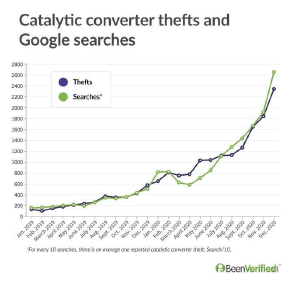 BeenVerified's analysis predicts nearly 26,000 catalytic converter thefts, an increase of 80% from all (insured) thefts reported last year. Because the NICB data reports on only insured thefts, the actual number of thefts is likely to be much higher.
Study main findings:
Catalytic converter thefts nearly doubled so far this year through May.
Toyota, Honda and Lexus vehicles are top targets.
California, Texas and Washington are projected top states for theft.
Colorado, Arizona and Connecticut are seeing the biggest spike in thefts in 2021.
Staying vigilant can help consumers protect their vehicles from being targeted. Check out these tips on how to better safeguard your vehicle from catalytic converter theft:
Park to prevent underneath access.
Engrave the catalytic converter with the vehicles VIN number
Weld the bolts shut
Install security cameras
Park in well lit areas.
Install a catalytic converter locking device as seen below.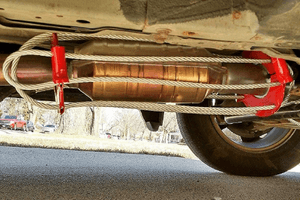 This article has been provided by Been Verified Media with special thanks to Katherine Aquino.